ACH
---
ACH - (Automated Clearing House)
ACH is an electronic funds transfer system that facilitates the movement of money between bank accounts in the US
Evolutionary step up from paper checks (conceived in the late 60's)

System designed and well suited for repetitive payments like: payroll, mortgage installments, utility payments, etc.

also called eChecks, direct deposit, direct debit…
Nacha - National Automated Clearing House Association - is the rule making body
Mostly low value, but high volume
Usually free or very inexpensive for both the sender & receiver
ACH messages are delivered up to 5x a day (06:00, 12:00, 16:00, 17:30, 22:00) <= Eastern
Same day ACH introduced 2016 - has current per-payment limit of $100k, set to increase to $1M in March 2022

same day settlement but is not an RTP system…. same day is same day, not real-time

Considered more secure than a wire.
Good for US payments only
Often used by Paypal, CashApp, Coinbase, etc… behind the scenes to transfer funds from user's bank account to their respective platforms
Quick stats
Payment volume and value statistics available here, here, and here

$62 Trillion was processed via the network in 2020

Volume increasing across payment scenarios, with B2B payments joining the trend (with transactions increasing 15%)

Pandemic spurring much of adoption of electronic payment solutions => check payments declined more than 23% yoy in Q4, says the Fed.

Same-day ACH volume spiked 35.7% in 4th Quarter 2020 -> value of transactions spiked 101% <= driven in part by increased B2B usage
Two ACH Transfer Types:
ACH Credit

An ACH entry that deposits funds into a Receiver's account
Example: payroll direct deposits

ACH Debit

An ACH entry that withdraws funds from a Receiver's account
Example: any pre-authorized bill pay scenario: mortgage payments, utility or credit card payments, etc.
Definitions:
Originator: Usually a company that initiates an ACH debit or credit, through an ODFI or Third-Party Sender, to a Receiver (a consumer or another company)

Can also be an individual or other entity
Needs the Receiver's pre-authorization
Originator always represents the transaction "initiator" regardless of debit or credit transaction

ODFI: Originating Depository Financial Institution - usually the originator's bank

The entity responsible for converting ACH transactions into a NACHA accepted formatted file and transmitting it to the ACH operator.

RDFI: Receives the transaction and performs validation of funds availability and account standing.
Receiver: Company or individual receiving an ACH debit or credit entry from an Originator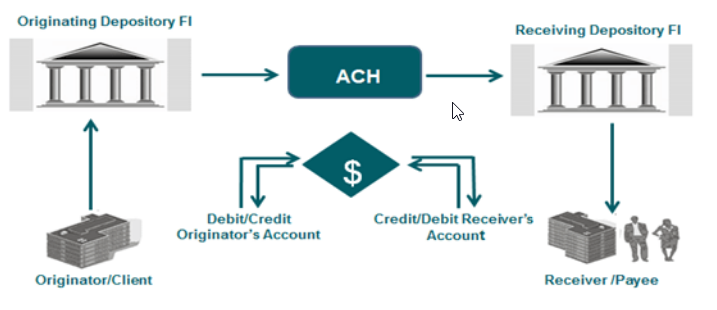 General Flow:
An Originator– whether that's an individual, a corporation or another entity– initiates either a Direct Deposit or Direct Payment transaction using the ACH Network.
The Originating Depository Financial institution (ODFI) enters the ACH entry at the request of the Originator.
The ODFI aggregates payments from customers and transmits them in batches at regular, predetermined intervals to an ACH Operator.
ACH Operators (two central clearing facilities: The Federal Reserve or The Clearing House) receive batches of ACH entries from the ODFI.
The ACH transactions are sorted and made available by the ACH Operator to the Receiving Depository Financial Institution (RDFI).
The Receiver's account is debited or credited by the RDFI, according to the type of ACH entry. Individuals, businesses and other entities can all be Receivers.
Each ACH credit transaction settles in one to two business days, and each debit transaction settles in just one business day, as per the Rules.
Example: Workflow for a bill payment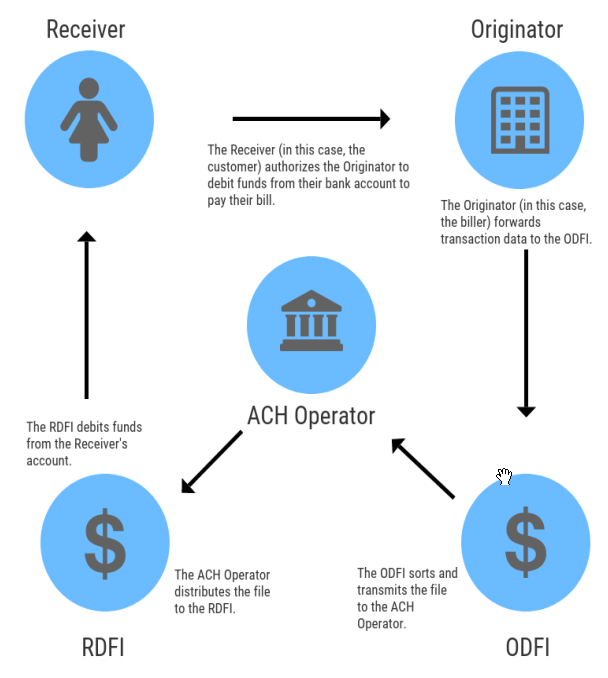 The ACH payment network is really two intertwined systems run by two separate operators:
EPN - (Electronic Payments Network)

Operated by The Clearing House (TCH) - a banking association and payments company that is owned by the largest commercial banks.
Generally services transactions between banks

FedACH

Operated by the Federal Reserve Banks
Generally services transactions involving government related financial institutions
Same Day ACH

NACHA proposed fees of $.08, fed actions pushed this down to $.04 => good for end users
Specifications
Useful Resources: